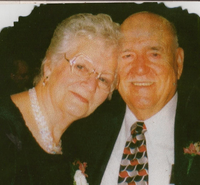 Marie Copeland
Albion- Marie Sesney Copeland, 89, fell asleep peacefully at home early Friday morning, September 8, 2017 in the loving care of her family.
She was born on August 1, 1928 in Licking Township, Clarion County, Pennsylvania, the first of two daughters of the late Ira L. and Winifred (Johnston) Dunkle. Marie was a baptized servant of Jehovah and attended the West Springfield Congregation of Jehovah's Witnesses.
She is survived her sister, Phyllis D. Hamler, of Warren, PA; children, Patricia Bryte, Sandra (William) Thornton, David (Deborah) Copeland, Joan (Kenneth) Abbott, Deborah (Earl) Sherman, Naomi (Daniel) Stutzman, Kenneth (Patricia) Copeland, Richard (Rose) Copeland; 30 grandchildren, 41 great-grandchildren; and one great-great-grandchild.
Marie was preceded in death by her husband of 62 years, Arthur L. Copeland; son-in-law, James Bryte; infant daughters, Lisa Marie and Cammie Jane; granddaughter, Melanie Marie Thornton; and a great-granddaughter, Keiarra Frye.
Marie met the love her life in 1947 while working at GE in Erie. Art and Marie enjoyed working together. They drove semi-truck together for many years before retiring. They lovingly raised their family, turned their 40 acres west of Albion into a beautiful haven where they nurtured two generations with family picnics, hunting and fishing expeditions, and traveled to fabulous destinations across the United States and Canada.
Marie enjoyed cooking, sewing, quilting, crocheting, knitting, was an avid reader and a tireless nurturer to all she met. She had a sincere desire to please God and courageously stood up for what she believed in. She taught her children to work hard and put Jehovah God's interest above their own. She gave them a stalwart example of loyalty, endurance and love.
A memorial service will be held, Sunday, September 10, 2017 at 2:00 P.M. at the Kingdom Hall of Jehovah's Witnesses, 14250 W. Lake Rd., West Springfield, Pennsylvania. Interment at East Conneaut Cemetery.