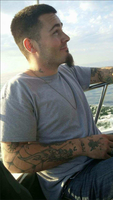 Jeffrey L. Elvis, II
ASHTABULA- Jeffery L. Elvis, II, 28 of Ashtabula passed away unexpectedly, September 8, 2017.
He was born December 7, 1988, in Conneaut, the son of Jeffery Elvis I and the late Victoria Vallory (Brown) Elvis and had remained a lifelong area resident.
Jeffery was a country boy and enjoyed riding motorcycles. But most of all he enjoyed spending time with his children.
He is survived by his wife, Ashley Kightlinger Elvis, their daughter, Valarie Autumn Elvis; his son, Aaron Presley Elvis, and his mother Marykay Ours; his father Jeffery Elvis, I; sisters, Angel and Chandra Brown; and brother, Darrell Elvis.
Jeff was preceded in death by his mother Valerie; maternal grandmother Lucy Brown; and paternal grandparents, Lloyd and Roberta Elvis.