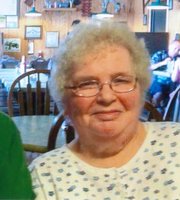 Rita M. Fuller
Rita M. Fuller, 78, of Main St., Conneaut passed away Wednesday, September 13, 2017 at the Cleveland Clinic.
Rita was born on May 14, 1939 in Conneaut the daughter of Glenn and Oneita (Kelley) Burlingham. She graduated from Rowe High School Class of 1957 and would marry the love of her life, Delton O. Fuller on December 7, 1957.
Mrs. Fuller was a member of the First Congregational United Church of Christ. Rita was employed with GE Conneaut Base Plant prior to raising her family and would later work for BP Oil, Peterson Oil Co. and at the Conneaut Railroad Museum, most recently. Rita loved being a mother and grandma who cherished the time spent with her family and grandchildren.
She is survived by her children, Amy (Carl) Hall, Randy (Nancy) Fuller, and Wendy (Art) Ackerley; grandchildren, Sydnee and Glenn Hall, Michael Fuller, Amanda, Austin and Athan Ackerley; great-grandchildren, Ayden and Amari; sister, Janet (Walt) Cole; sister-in-law, Beverly Burlingham; and several nieces and nephews.
Rita was preceded in death by her parents Glenn and Oneita Burlingham; loving husband of 57 years, Delton O. Fuller, whom passed on June 23, 2015; and a brother, Clarence Burlingham.
Private graveside services were held at Greenlawn Memory Gardens.
Memorials in memory of Rita may be given to the Kingsville Area Little League, PO BOX 204, Kingsville, Ohio, 44048 or the Ashtabula County Autism Group, 2113 North Park Lane, Roaming Shores, Ohio, 44084.