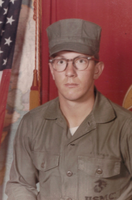 Martin W. "Marty" Wojtowicz
Mayfield Heights- Martin M. "Marty" Wojtowicz, 66, of Mayfield Village and formerly of Conneaut passed away peacefully on Thursday, September 22, 2017 at Hillcrest Hospital, after battling cancer for the past year.
Marty was born on July 23, 1951 in Conneaut, Ohio the son of George W. and Margaret (Jones) Wojtowicz. He graduated from Conneaut High School Class of 1969. Mr. Wojtowicz would enlist in the United States Marines and later reenlist in the United States Navy, where he served honorably. He was a member of the Conneaut American Legion Cowle Post #151.
He retired from Heinen's Grocery Store in March of 2016, where he worked as a grocery clerk since 1992. Marty was an excellent bowler in his younger years. He enjoyed listening to Rock and Roll Music and had a very large collection of hats. Marty loved to walk around Mayfield Village and he knew many of the residents of the area.
He is survived by his daughter, Corrie (Dwayne) Mitchell; son, Marty (Amy) Wojtowicz; granddaughter, Alexis Wojtowicz; sisters, Judy (Sam) Pogany and Joyce Wojtowicz; and his nieces, nephews and cousins.
Marty was preceded in death by his parents, George and Margaret Wojtowicz; brothers, Patrick W. Wojtowicz and Thomas, in infancy; and his aunt, Marion Fillinger.
A celebration of life will be held, Monday, September 25, 2017 from 4-7PM at the American Legion Post #151, 272 Broad St., Conneaut, where military honors will be held at 6PM.
In lieu of flowers memorials in his name may be directed to the family. Envelopes will be available at the American Legion and funeral home.