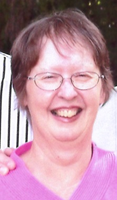 Karen M. Webster
Karen M. Webster, 70, of Andover died Monday, October 9, 2017 at the Ashtabula County Nursing Home after an eight-year struggle with Fronto Temporal Dementia. She was surrounded by her family at her passing.
Karen was born September 19, 1947 in Conneaut to Earl B. and M. Marie (Stump) Smith. She graduated from Buckeye Schools Class of 1965 and worked in many positions for Kelley Services, before retiring as a Chiropractic Assistant.
Karen and her husband, Bill, enjoyed travelling, visiting British Columbia, Alberta, the Canadian Maritimes, Normandy, France, the Bahamas, and many places in the states. They especially loved Montana, Wyoming, and Colorado. Karen also liked reading, fishing, boating, and visiting casinos.
She is survived by her husband of 51 years, Bill; two sons, Dale (Charlotte) of Conneaut and Brad of Bellevue; five grandchildren, Brittany and William and Paige, Tyler and Brett; and her three sisters, Kristy (Arthur) Barnes, Shelia (Gary) Knowlton and Denise (Dan) Miller.
Karen was preceded in death by her parents; and a niece in infancy, Kelly Barnes.
At Karen's request there will be no calling hours or services.
On Monday, God welcomed a wonderful person into his arms.