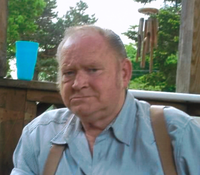 Michael G. Loomis
Monroe Twp.- Michael G. Loomis, Sr., 67, of Monroe Twp., passed away unexpectedly at his home on Tuesday, October 10, 2017.
He was born on May 25, 1950 in Ashtabula the son of Eugene O, Sr., and Sarah Jean (Coy) Loomis. Michael served his country honorably in the US Army during the Vietnam War. He was a "jack-of-all-trades" and worked in the woods logging and drove truck. Michael loved to play his guitar and spend time with his family and friends. He was a giving soul and would lend a hand or give the shirt off his back to his family, friends and even his enemies.
He is survived by his loving wife of 44 years, Bonnie L. (Burdine) Loomis; children, Donald (Tammy) Huston, Jeffrey (Lynda) Huston, William Loomis, Lori (Tom) Nearhoof, Barbie (David) Nearhoof, Michael G. Loomis, Jr., Michael Huston, Craig (Tamara) Loomis and Sherri (Jim) McAvoy; many grandchildren and great-grandchildren; brother, Eugene O. Loomis, Jr.; and many dear, cousins, nieces and nephews.
Michael is preceded in death by his parents, Eugene, Sr., and Sarah "Sally" Loomis; first wife, Penny Loomis; daughters-in-law, Dolly Huston and Corina Huston; grandson, Cord Huston; and a sister in infancy, Katherine Loomis.
Funeral services will be held, Saturday, October 14, 2017 at 10:00 A.M. at Thompson Smith Nesbitt Funeral Home, 345 Main St., Conneaut with his cousin, Rev. Roger Loomis of Hope Community Church, officiating. Burial will follow at Greenlawn Memory Gardens, where American Legion Cowle Post #151, will salute their departed comrade. Calling hours will be held Friday from 6 to 8 PM at the funeral home.
In lieu of flowers, contributions may be given to his wife, Bonnie Loomis. Envelopes will be available at the funeral home.
The Thompson Smith Nesbitt Funeral Home and Cremation Services is honored to assist the family. Online guestbook and condolences available at www.thompsonsmithnesbitt.com