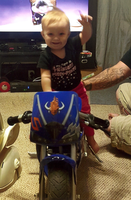 Sereniti Jazzlynn-Sky Blankenship-Sutley
Sereniti Jazzlynn-Sky Sutley, 1, became an angel, Saturday, October 7, 2017.
She was born September 13, 2016 in Ashtabula, the daughter of Brandon Sutley and Kelsie Blankenship.
Sereniti was a loveable little girl who brought a smile to your face. Her personality was bright and her smile was contagious. She loved Scooby Doo, playing video games with her mom, and sleeping with her favorite monkey her grandma made for her. Although her time here was short, the lasting memories she brought to her family will forever be treasured.
She is survived by her parents, Kelsie and Brandon; God parents, Lisa Murtha and Chico Morales; maternal grandmother, Lisa Butts; maternal grandfather, Hargis (Sonya Taylor) Blankenship; paternal grandma, Melissa Sutley; great-grandparents, Jean (Rick) Carlo, Cheryl Blankenship, Lenette Dello, and Randy Butts; great-great grandmothers, June Brennan, Eileen Blankenship, and Patty Sutley; uncles, Alex Natto, Hunter Blankenship, and Rodney Baldwin; aunt, Rayona Potter; great-aunts, Laura Butts and Amy Lane; great-uncles, James Sutley, Jr., and Cain, Derek, and Brandon Butts; and several other aunts, uncles, and cousin.
Sereniti was preceded in death by her great-great grandfather, Chubs Brennan; great-grandfathers, Eugene Osborne and Harry Runnion, and Jim Sutley, Sr.; great-uncle, Jeff Sutley; and her favorite pet Kloe.
A memorial service will be held Monday, October 16, 2017 at 1PM at the Thompson-Smith-Nesbitt Funeral Home, 345 Main St., Conneaut with Rev. Jan Walsh officiating. Inurnment will follow at Greenlawn Memory Gardens. Calling hours will be held on Monday, from 11 AM until the time of service at 1PM.
The family suggests memorial donations or donation of toys in Sereniti's name be made to the Conneaut Human Resource Center, Halo Program, 327 Mill St., Conneaut, Ohio 44030, to be donated to local children for Christmas in Sereniti's name. Donations can be brought to the funeral home or to the Conneaut Human Resource Center.
Funeral arrangements have been entrusted to Thompson-Smith-Nesbitt Funeral Home, 345 Main St., Conneaut. Online obituary and condolences at www.thompsonsmithnesbitt.com