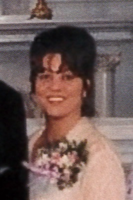 Lisa Marie Bertolo
Kelloggsville- Lisa Marie Bertolo, 53, of Stanhope-Kelloggsville Rd., passed away peacefully, surrounded by family, on Tuesday, October 17, 2017 after a long battle with breast cancer. Smart, beautiful and gone too soon. Lisa was truly a kindhearted soul, a friend to everyone and she had an uncanny knowledge of trivia!
Lisa was born on April 1, 1964 in Yakima, Washington to the laterents of Larry and Shirley (Kraft) Bertolo. She resided in Erie, Pennsylvania for many years before moving to Ohio and graduated from East High School, Erie, Class of 1982. She enjoyed listening to country musics, singing, bowling and bowled in the women's league in Jefferson.
She is survived by her siblings, Larry (Melissa) Bertolo, Renee (Jack) Schonthaler, Toni Bertolo and Nina Bertolo; also many nieces, nephews, aunts, uncles and cousins.
Lisa is further survived by her boyfriend, Alan Blenman and his children, Tia and Janell; grandchildren, whom she adored, Shawndrace and Zalaya; and her dear friends, Kristana, Raffaela, Denise and Brenda.
In addition to her parents and grandparents, Lisa was preceded in death by her nephew, Lawrence Bertolo; and a granddaughter, Jaelynn.
No calling hours will be observed. A memorial will be announced at a later date.
Memorials may be made to the Hope Lodge, 11432 Mayfield Rd., Cleveland, Ohio 44106.
The Thompson Smith Nesbitt Funeral Home and Cremation Services, 345 Main St., Conneaut is honored to assist the family. Online guestbook and condolences available at www.thompsonsmithnesbitt.com