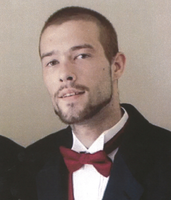 Joseph Jeremiah Beals
Conneaut- Joseph Jeremiah Beals, 35, of Conneaut passed away unexpectedly on Wednesday, November 22, 2017 at UH- Conneaut Medical Center.
He was born on December 16, 1981 in Conneaut, Ohio the son of Larry Beals, Sr. and Bernadine M. Barnard. Joey attended Conneaut High School and was returning to work at CSP as a trimmer.
He had a free spirit and a great sense of humor. His family will remember him as a practical jokester and never serious. Joe loved listening to music and had many tattoo's that he used to express himself and were often from a life experience. He loved his dog, Payton, and enjoyed riding his bicycle. Above all else he loved spending time with his family and friends, of which he had many.
Joseph is survived by his parents, Bernadine (George Beatman) Barnard and Larry (Mary) Beals, Sr.; paternal grandparents, Harry and Martha Beals; his daughter, Nevaeh Beals and her mother, Maranda Beals and her children, Chelsea, Elias, Amber and Seth; girlfriend, Shannon Robinson and her son, Ethan; siblings, Larry Beals, Jr., Kacie (Don) Kleja, Shelly Kleja, Jessie (Matthew) Beals, Ashley Myhoffer, Megan Ericksen and Dylan Wright; "Step-Mom" Tamra Smith; Uncle David Ray; five nephews; four nieces; and several aunts, uncles, cousins and many dear friends.
He was preceded in death by his maternal grandparents, Mary Lou Ray and Harry Barnard; and two sisters, Jennifer Kleja and Nicole Tisdale.
A celebration of life will be held, Monday, November 27, 2017 from 4PM to 8PM at the Ashtabula Eagles, 527 Center St., Ashtabula.