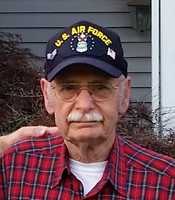 Richard R. "Neil" Wright
Richard R. "Neil" Wright, 88, lifelong resident of Conneaut passed away peacefully on Monday, November 27, 2017.
He was born on August 21, 1929 in Conneaut, Ohio the son of Maurice Brown Wright and Lula Beatrice (Neil) Wright. Neil was a 1946 graduate of Rowe High School and would enlist in the United States Army, and then re-enlist in the Air Force, serving his country honorably during the Korean War. He continued to honor his country, by serving in the American Legion Cowle Post #151 Color Guard.
Neil was a quiet man, but was always there to help others. He and Marian volunteered all over Ashtabula County. Neil worked on the railroad, and then Ltec and the former Union Carbide, where he was a machinist. He took an early retirement at age 62 to spend more time with Marian. He was never focused on money. What he valued most was time with family. Neil worked hard during his lifetime to provide a great life for Marian, Jeff, and Jim. He didn't give his children a lot, but preferred to show them how to earn it. He provided Jeff with a lawn mower and Jeff had a sailboat. He provided Jim with a bicycle for his paper route and soon Jim had a motorcycle. That work ethic built what his children have today
Neil was a Christian and a special kind of person. He was a lifelong member of the New Leaf United Methodist Church and previously attended Lakeview UMC, where he taught Sunday school, sang in the church choir, and often played the harmonica for the congregation. He enjoyed woodworking, especially carving. He carved a 10 foot totem pole that now sits in his son's backyard and 100's of other smaller pieces. Neil had a love for bicycles. He would find them in a scrap pile, repair them, and give them away. And he always had a motorcycle. From 16 to 66, he always had at least one, and sometimes three. Neil always kept busy, whether mowing the lawn, blowing snow or working in his 4 bay, heated garage.
Mr. Wright is survived by his sons, Jeff (Laurie Rich) Wright of Seattle, WA and Jim (Julie Gibson Wright) Wright of Champion; grandchildren, Brenda (Jeremy) Brinkerhoff of Bellingham, WA and Samuel, Savanna, Aiden and Vincent Wright all of Champion; great-grandson, Zeal Brinkerhoff of Bellingham, WA; sister, Betty Pontius; and brothers Maurice Wright and David (Carol) Wright.
He was preceded in death by his parents; loving wife of 59 years, Marian L. (Meinke) Wright, whom passed on December 27, 2016; and a brother, John Kirkpatrick.
A memorial service will be held, Monday, December 4, 2017 at 11:00 A.M. at New Leaf United Methodist Church, 110 Gateway Ave., Conneaut, where American Legion Cowle Post #151 will salute their departed comrade. Friends and family will gather at the church on Monday from 10AM until time of services at 11AM. A luncheon will follow services.
In lieu of flowers memorials in memory of Neil may be given to the New Leaf UMC, 110 Gateway Ave., Conneaut, Ohio, 44030.
The Thompson Smith Nesbitt Funeral Home and Cremation Services, 345 Main St., Conneaut is honored to assist the family. Online guestbook and condolences available at www.thompsonsmithnesbitt.com