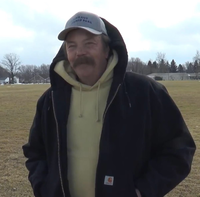 Bruce E. Mitchell
Bruce Edward Mitchell, 59, of Conneaut passed away Friday, December 22, 2017 at the Cleveland Clinic.
He was born February 6, 1958 in Ashtabula, the son of the late Arvel and Marilyn (Brunell) Mitchell. Bruce married the love of his life Cindy Freeman on July 23, 1989.
Bruce worked for many years at Conneaut Township Park and was currently serving as the Park Superintendent. Bruce greatly enjoyed his job there and the everyday beauty of the park. Bruce enjoyed the outdoors, he loved taking the children for rides to spot deer, fishing in the creeks and Lake Erie, and enjoying all the natural wildlife the park had to offer.
He is survived by his wife of 28 years Cindy; daughters, Brittany (Christopher) Spencer, and Cayla Mitchell; son, Zackery Mitchell; sister, Karen (Steve) Lamb; granddaughter, Skylar; as well as many nieces, nephews, and friends.
Bruce was preceded in death by his parents and brother, Brian Mitchell.
A Celebration of Bruce's Life will be held on Wednesday, January 3, 2018 at 7:00PM at the Thompson-Smith-Nesbitt Funeral Home, 345 Main St., Conneaut, with Pastor Tim Krause??? Officiating. Friends may call at the funeral home on Wednesday from 5PM until the time of service at 7PM.
Should friends desire, memorial contributions may be made in his name to the family. Envelopes will be available at the funeral home.
Thompson-Smith-Nesbitt Funeral Home and Cremation Services, 345 Main St., Conneaut is assisting the family. Online obituary and condolences at www.thomsponsmithnesbitt.com