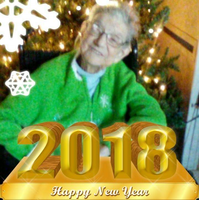 Evelyn E. Blankenship
Evelyn Eileen Yoder Blankenship, 85, of Ashtabula passed away on Saturday, January 6, 2018 at the home of her daughter.
She was born on March 22, 1932 in Erie, Pennsylvania the daughter of Moses Leroy and Edith Yoder. Evelyn enjoyed being with her family, bird watching, traveling and doing word searches.
She is survived by her children, Carletta Havers of Jamestown, NY, Cheryl Blankenship of Conneaut, Karen Hancock of Ashtabula, Gary Blankenship of Corry, PA, Culetta Burdette of Conneaut, Amy Lane of Conneaut and James Blankenship of Warren, PA; and many grandchildren, great-grandchildren and great-great-grandchildren.
Evelyn was preceded in death by her husband, Hargis V. Blankenship; sons, Larry G. Blankenship and Bruce W. Blankenship; brothers, John, Calvin, Sam and Clair Messinger, William Hall; and her sisters, Edith Messinger, Mae Weborg, Virginia Houghton and Edna Beardsley.
A memorial service will be announced at a later date by the Thompson-Smith-Nesbitt Funeral Home and Cremation Services, 345 Main St., Conneaut.
Online guestbook and condolences available at www.thompsonsmithnesbitt.com