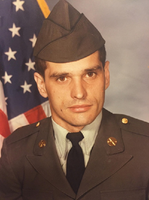 Clayton D. Tredway
Clayton Dale Tredway, 62, of North Kingsville, passed away peacefully at home surrounded by his family on Friday, January 12, 2018.
He was born September 2, 1955 in Conneaut, the son of Edward Franklin and Helen Louise (Bunch) Tredway. Clayton graduated from Edgewood High School and remained a lifelong area resident. Clayton enlisted in the United States Army and proudly served our country from 1973-1975 and then again from 1982-1985.
Clayton married the love of his life, Marti Thompson, on September 4, 1976. Clayton was a jack of all trades and worked at many places over the years, but most recently he was an underground electrician for First Energy.
Mr. Tredway loved hunting and guns, he enjoyed old cars, tinkering around the house and working in his yard, but most of all he enjoyed spending time with his children and grandchildren.
Clayton is survived by his wife of 41 years, Marti; sons, Jeremy (Joy) Tredway, and Andrew (April) Tredway; granddaughters, Jasper, Juniper, Aberlynn, Aubrey, and Allie Tredway; Mother, Helen Tredway; brothers, Edward "Dewayne"(Lenore), Robert (Gayle), John (Connie), Jeff, Ronald (Bianca), and Thomas Tredway; sisters, Lois Fair, Karen (Bobby) Hunneycutt, and Amy Talbert; as well as many nieces, nephews, and friends.
He is preceded in death by his father, Edward.
A memorial service will be held on Saturday, January 20, 2018 at 12 Pm at the Edgewood Church of the Nazarene, 3025 N. Ridge Rd. E., Ashtabula, Ohio 44004.
Should friends desire, memorial contributions may be made to the family.
Thompson-Smith-Nesbitt Funeral Home, 345 Main St., Conneaut is assisting the family. Online obituary and condolences at www.thompsonsmithnesbitt.com