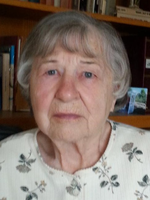 Anna D. Bailey
Anna D. Bailey, 99, passed away peacefully Friday, February 2, 2018.
She was born September 28, 1918 in Conneaut the daughter of the late Antone and Bara "Bertha" Bailey. She graduated from Rowe High School Class of 1937 and remained a lifelong Conneaut resident. Anna worked as a secretary at General Electric in Conneaut for over 30 years.
Anna was a lifelong member of St. Mary's Catholic Church in Conneaut, and an active member of the Catholic Daughters Association. She was a devoted daughter and cared for her mother all of her life. She enjoyed spending her time with her family and spoiling the neighborhood kids with snacks and activities.
Anna was preceded in death by her sisters, Sylvia Sorc and Bertha Koivisto; brother, Anthony "Tony" Bailey; nieces, Jean Troxil and Grace Szabo; great-nephew Stuart Troxil; and her parents.
She is survived by her nephew Paul Koivisto; and great-nieces, Michelle Pitonyak, Laura Szabo, and Dianne Dunne; and great-nephew, David Koivisto.
At her request no calling hours or services will be observed. Thompson-Smith-Nesbitt Funeral Home, 345 Main St., Conneaut is handling arrangements. Online obituary and condolences at www.thompsonsmithnesbitt.com