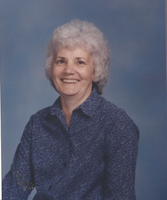 Bonnie L. Applebee
Monroe Township- Bonnie L. Applebee, 77, passed away peacefully on Sunday, February 11, 2018 at the Ashtabula County Nursing and Rehabilitation Center.
She was born on July 15, 1940 the daughter of Kenneth and Florence (Brown) Ruland. Bonnie graduated from West Springfield High School Class of 1958. She married the love of her life, John "Jack" K. Applebee on September 2, 1960. Bonnie was a member of the Kelloggsville Church of the Nazarene.
She'll be forever remembered as a loving wife, mother and grandmother, whom supported her family in their endeavors. Bonnie enjoyed spending time outdoors, walking, sewing, knitting and going for rides with her husband. A favorite memory of many is the homemade suckers at Halloween, and even adults would be sure to ask for one.
Mrs. Applebee is survived by her two sons, Alan (Bonnie) and Jeff (Elaine) Applebee; grandchildren, Anna, Erica, John, Caroline, Sean and Cathleen; siblings, Clifford (Lynn) Ruland, Leila Mae Olsen, Nancy (Silas) Walker, Marian Wheeler, Martha Forsythe and Paul (Barbara) Ruland; and a sister-in-law, Joyce Ruland.
She was preceded in death by her parents; beloved husband Jack Applebee in 2014; infant granddaughter, Cassandra Marie Applebee; and siblings, Edward Ruland, Leslie Ruland, Ethel Zenk, David Ruland, Larry Ruland, Earl Ruland and Beth Adams.
Calling hours will be held Saturday, February 17, 2018 from 9AM to 11AM at the Thompson Smith Nesbitt Funeral Home, 345 Main St., Conneaut, where funeral services will be held at 11AM with Rev. Larry Carr, officiating. Burial will follow at Kelloggsville Cemetery.
In lieu of flowers, memorials in memory of Bonnie may be given to the Nueva Esperanza, P.O. Box 345, Kingsville, OH 44048.