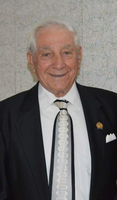 Rudy J. Pryately
Rudy J. Pryately, Sr., 93, lifelong resident of Conneaut, sadly passed away on February 12, 2018 at the Villa at the Lake, after a brief illness. He was born on March 9, 1924 to immigrant parents John and Jennie Pryately. Rudy was youngest of four children, Tony, Jane and John.
He enlisted in the 9th Air Force serving in England, France and Germany from 1943 until 1946, during World War, II.
He was an extraordinary business man and owned and retired from R&L Midtown Motors in 1981. Rudy was an auto dealer, real estate investor and enjoyed golfing and bowling. He was forever a wheeler dealer. He was a member of the Elks, Moose, SNPJ, AMLA, and the American Legion. He also enjoyed traveling, especially to Slovenia, going on escapades, and having a dog by his side. If you had the pleasure to spend an afternoon with him you would hear one of his stories about the wonderful and adventurous life he lived.
Along with his extraordinary life he also had a large family. Rudy was an amazing husband, father, grandfather, great-grandfather, great-great grandfather, and friend
He was preceded in death by his wife of 50 years Irma Frances Stavanja; his three siblings; and his many dogs "Jake."
His survivors include daughters, Patricia (Nino)Buchner, Linda Pryately; son, Rudy (Rhonda) Pryately, Jr.; grandchildren, Jonathan (Courtney) Buchner, Elizabeth Buchner-O'Meara, Rudy (Mary) Pryately, III, Rachel and Rylie Pryately; great-grandchildren Rebecca and Luke Buchner, Jacob Gurwell, Oliver and Alexander O'Meara, Mason and Payton Thomas, and Paisley Pryately; great-granddaughter, Ava Williams; and long time friend, Madelon Distelrath
Calling hours will be held, Thursday, February 15, 2018 from 2-4 and 6-8 at the Thompson Smith Nesbitt Funeral Home, 345 Main St., Conneaut. Funeral services will be held Friday, February 16 at 10:00 AM at the funeral home, with Rev. Fr. Raymond Thomas, officiating. Burial will follow at Greenlawn Memory Gardens, where American Legion Cowle Post #151 will salute their departed comrade.
Another Airman has folded his wings, grant him eternal rest. Let perpetual light shine upon him. May his soul and all the souls of the faithful departed through the mercy of God, rest in peace. Amen.
In lieu of flowers, memorials in memory of Rudy may be given to the American Legion Cowle Post #151, 272 Broad St., Conneaut or American Cancer Society, 10501 Euclid Ave., Cleveland, OH 44106.
Online guestbook and condolences available at www.thompsonsmithnesbitt.com