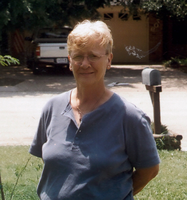 Isabelle C. "Cookie" Loy
Conneaut- Isabelle "Cookie" C. Loy, 70, passed away Wednesday, February 14, 2018 at UH-Geauga Hospital.
She was born on August 12, 1947 in Painesville, Ohio the daughter of Van Lairion E. and Charlotte M. (Alderman) Watson.
Cookie was a nurse's aid and homemaker. She loved spending time in the garden and had a green thumb. Cookie loved animals, long conversations and being with her family. She will also be remembered as a great artist and completed many beautiful drawings. Cookie was a member of Victory Center Church of God of Prophecy in Kingsville.
Mrs. Loy is survived by her son, Vance Brisk; grandchildren, Franklin Brisk, Amber Brisk, Marie-Lee Brisk and Alexander Brisk; great-grandchildren, Donna Brisk and Layla Brisk; dear niece, Teresa Hall; and several more nieces and nephews.
She was preceded in death by her parents; husband, Eugene L. Loy in 2001; two children, Georgia Lee Brisk and James "Jimmy" Brisk; and her siblings, James and Robert Watson and Rosemary Brisk.
She will be buried with her husband at Glenwood Cemetery in a private ceremony.
The Thompson Smith Nesbitt Funeral Home and Cremation Services, 345 Main St., Conneaut is honored to assist the family. Online guestbook and condolences available at www.thompsonsmithnesbitt.com