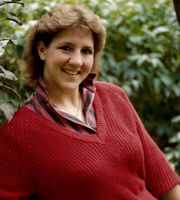 Charlotte A. Webster
Conneaut- Charlotte A. Webster, 49, passed away peacefully on Friday, February 16, 2018 at the Hospice Unit of Ashtabula County Medical Center, after a courageous fight with cancer.
She was born on October 15, 1968 the daughter of Pattie A. Herb Danowski-Williams and the late Anthony J. Danowski. Charlotte graduated from Conneaut High School Class of 1987. She married the love of her life, Dale W. Webster on September 5, 1987. Charlotte had been employed as the office manager of Ashtabula Chiropractic for many years.
She enjoyed spending time outdoors and with her family. Her and Dale enjoyed trips to go gambling and watching the horse races. The family went on many hiking trips in the National Parks, always on the look out for a Big Foot sighting or evidence that he was close by. She also enjoyed walking along the beaches at Conneaut Township Park. Charlotte loved to garden and the past few years enjoyed growing her own vegetables.
She is survived by her loving husband and soul mate of 30 years, Dale W. Webster; her mother, Pattie A. Williams; their children, Brittany A. Webster and William A. Webster; brothers, Anthony Danowski and Stanley Danowski; brother-in-law, Brad Webster; nieces and nephews, Samantha Danowski, Tyler Webster, Paige Webster and Brett Webster; father-in-law, William W. Webster; dear friends, Kelly Humphreys and Mike Maund, Troy and Michelle Humpreys; and her office staff to whom she was very close, Connie and Ronnie Kiester and Dr. Roger Huang.
She was preceded in death by her father, Anthony J. Danowski; second father, Romalee "Lee" Williams; mother-in-law, Karen Webster; and maternal grandparents, Kenneth and Harriet Herb.
A celebration of life gathering will be held, Saturday, March 3, 2018 from 5PM to 7PM at the Thompson Smith Nesbitt Funeral Home, 345 Main St., Conneaut.