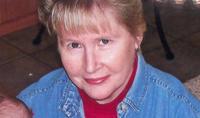 Cheryl A. Spero
Cheryl Ann Spero, 62, of Conneaut passed away peacefully on Monday, March 5, 2018 in the Ashtabula County Nursing Home, after a brief illness.
She was born on November 28, 1955 in Goshen, Indiana the daughter of Jack D. and Helen I. (Knitter) Washington. Cheryl graduated from Goshen High School Class of 1974.
Throughout her life she enjoyed antiquing and going camping.
Cheryl is survived by her children, Matt (Heidi) Spero and Michelle Spero; sister, Karen (Skip) Boyer; grandchildren, Derek, Hamilton, Kasen, Keanan and Marcus; and her fiancé Bill Rankinen.
She was preceded in death by her parents.
A memorial service will be held Sunday, March 11, 2018 at 3:00 PM at the First Congregational United Church of Christ, 211 Buffalo St., Conneaut with Rev. Frank Wofford, officiating.
The Thompson Smith Nesbitt Funeral Home and Cremation Services, 345 Main St., Conneaut is honored to assist the family. Online guestbook and condolences available at www.thompsonsmithnesbitt.com