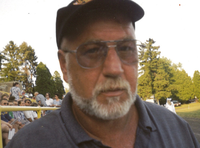 David Eaton
Conneaut- David W. Eaton, Sr., 64, of Day St., Conneaut passed away unexpectedly on March 13, 2018, at UH-Conneaut Medical Center.
David was born on June 7, 1953 in Erie, Pennsylvania the son of Clinton and Donieta (Robson) Eaton.
He enjoyed fishing , gardening and working on cars. David also loved spending time with his family and friends.
He is survived by his beloved companion of 23 years, Brenda Buron; children, Chandra Brown, Angel Brown, David Eaton, Jr., Shaun (Melissa) Benoit, Chris Benoit, and Steven Benoit; grandchildren, Skyler and Dylan Brown, and Cassie and Amber Benoit and Caitlin, Rachel, Emily and Mason Benoit and Dartanian Brown; siblings, Wanita McQueeney, Virginia (Chuck) LaDow, William Kimmy, Clair Eaton, Donald Eaton, Chip (Misty) Eaton, Roy Eaton, Howard (Loretta) Eaton and Sam Eaton.
He was preceded in death by his parents; brother, Ed Eaton; and a sister Susan McCumber.
A gathering will be held Thursday, March 22, 2018 from 6PM to 8PM at the Thompson Smith Nesbitt Funeral Home, 345 Main St., Conneaut.
In lieu of flowers, contributions may be given to the family. Envelopes will be available.