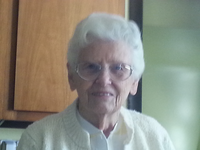 Bertha J. Koivisto
Bertha J. Koivisto, 96, of Conneaut passed away peacefully at the home of her granddaughters December 24, 2017.
She was born April 2, 1921 in Conneaut the daughter of the late Antone and Bara "Bertha" Bailey. Bertha graduated from Rowe High School Class of 1949, she then married Leo "Pete" Koivisto and remained a lifelong Conneaut resident.
Bertha was a lifelong member of the First Congregation United Church of Christ in Conneaut. In her earlier years Bertha worked as a waitress at the Cleveland Hotel, and at Esso Gas Station as and attendant. She then worked at Perkoski Pharmacy in Conneaut and then worked for many years at the former Goldette which later became the Astatic Corporation.
Mrs. Koivisto was a member of the Wimarine Club, past president of the 19th Century Club, she was a den mom for the Cub Scouts when her kids were young, and was also a member of the Rose Chapter #22 of the Eastern Star. She enjoyed bowling, golfing and gardening, but most of all spending time with her family.
She is survived by her son, Paul David Koivisto; sister, Anna D. Bailey; granddaughters, Michele Pitonyak and Laura Szabo; grandson, David Keith Koivisto; and great niece, Diane Dunne.
Bertha was preceded in death by her husband Pete in 1995; daughter, Grace Alice Szabo; brother Anthony Bailey; sister, Sylvia Sorc; niece Mary Jean Troxil; great nephew Stuart Troxil; and her parents.
At Bertha's request no calling hours or services will be held at this time. Cremation will take place. A graveside service at Center Cemetery will be planned for the summer. Thompson-Smith-Nesbitt Funeral Home, 345 Main St., Conneaut are assisting the family. Online obituary and condolences at www.thompsonsmithnesbitt.com