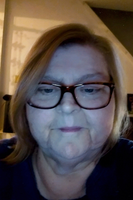 Lydia Pauline Bort
North Kingsville- Lydia P. Bort, 64, passed away Friday, November 9, 2018 at UH-Geauga after a brief illness.
Lydia was born on June 12, 1954 in East Springfield, Pennsylvania the daughter of Lawrence O. and Iona P. (Plyer) Robertson. She married the love of her life, Lyle V. Bort on November 1, 1986.
A wonderful house wife, she loved to bake and was known for her banana nut and zucchini breads. Lydia also loved her animals.
She is survived by her husband of 32 years, Lyle V. Bort; children, Jennifer P. (Randy) Johnson and Christopher M. Bort; five grandchildren; eight great-grandchildren; brothers, Lawrence O. Robertston, Jr., George R. Robertson, David G. Robertson and Phillip W. Robertson; sister, Nancy L. Popka; and lots of nieces and nephews.
She was preceded in death by her parents; brothers Byron T. and Timothy A. Robertson; sister, Margaret Robertson; and a niece and nephew.
A memorial service will be held, Saturday, November 17, 2018 from 2:00PM-4:00PM at Conneaut Family Fellowship Church, 641 Mill St., Conneaut. (Flowers can be sent directly to the church)
Online guestbook and condolences available at www.thompsonsmithnesbitt.com