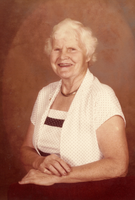 Esther Jane Mccall
Esther J McCall passed away Tuesday, November 27, 2018 at Villa at the Lake in Conneaut, Ohio where she had lived since 2000. Born March 22, 1915, in Indiana, PA, she was the youngest daughter of Samuel R. and Lottie B. Hine. Esther was the last of her generation and was pre-deceased by her parents, her seven siblings and her husband, Ansley L. McCall. Ansley and Esther operated an auto repair shop, Mac's Garage, and a Christmas tree farm before Ansley died on March 10, 1972.
Esther grew up on a dairy farm in Young Township near Indiana, PA and had six sisters and a brother. She is survived by many nieces and nephews. Esther was an avid reader and Scrabble player and had a competitive nature, enjoying every Scrabble victory. She maintained a positive outlook and an independent spirit, resisting assistance as much as possible and walking for nearly all of her 103 years.
The family wants to give a special thank you to the great staff of Villa at the Lake for the excellent care and attention they gave to Esther for many years.
Funeral services will be held, Friday, November 30, 2018 at 1:00PM at Thompson-Smith-Nesbitt Funeral Home, 345 Main St., Conneaut, with Rev. Frank Walford, of First Congregational United Church of Christ, officiating.
Online obituary and condolences at www.thompsonsmithnesbitt.com