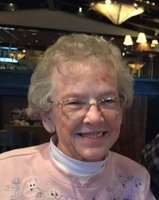 Nettie J Powell
Nettie J. Powell, 84, of Conneaut, died unexpectedly on Thursday, December 6, 2018 as a result of injuries sustained in an automobile accident.
She was born on February 17, 1934 in Ermine, Kentucky the daughter of Willie and Una (Webb) Stallard. Nettie was a long-time employee of Printcraft in Conneaut for many years until her retirement. She was also a member of First Baptist Church in Conneaut.
Nettie enjoyed spending time quilting, canning green beans and was a great bowler and had many games in the 200's. She took up the art of cake decorating that she learned from her older sister. Nettie also loved spending time in the garden and planting flowers. She also enjoyed watching the humming birds and wild life. If she knew you were coming to visit, she loved cooking your favorite meal and cookies. Nettie had a heart of gold, loved everyone she met and was always happy and positive.
She is survived by her husband of 65 years, William J. Powell; children, Kenneth (Ruth) Powell, Kevin (Shari) Powell, Donna (Dale Havran) Powell and Brian (Michele) Powell; sisters, Inez Croxdale and Minnie (Bob) Andrews; brothers, John (Pat) Stallard and Daniel (Leona) Stallard; grandchildren, Bill and Becke Powell, Joshua (Amanda) Powell and Nathan Powell, Sean and Andrea Hanna, and Nick and Brandon Powell; great-grandchildren, Max Powell, Sarah Wu, Adam and Tyler Bissett, Blake, Kaleb and Addison Powell and Madison and Cason Powell; and her great-great-grandson, Landyn Wu.
Nettie was preceded in death by her parents, Willie and Una Stallard; brothers, James and Orville Stallard; sister, Suzie Stallard; son, William Roger Powell; and her two grandsons, Ryan Powell (son of Kevin) and Kenneth Wayne Powell (son of Roger).
Calling hours will be held, Sunday, December 9, 2018 from 2-5PM at the Thompson-Smith-Nesbitt Funeral Home, 345 Main St., where funeral services will be observed on Monday, December 10, 2018 at 11:00A.M. with an additional hour of visitation being held from 10AM until time of services.
Memorials in memory of Nettie may be given to the Conneaut Lions Club, PO BOX 615, Conneaut. Envelopes will be available at the funeral home.
Online guestbook and condolences available at www.thompsonsmithnesbitt.com