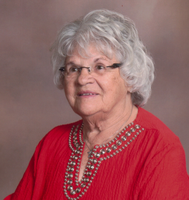 Nancy C. Lockwood
Lake City- Nancy C. McMillen-Fetterman-Lockwood, 80, passed away on Sunday, December 2, 2018 at her home, surrounded by her family, after a brief illness.
She was born on February 24, 1938 in Conneautville, Pennsylvania the daughter of Franklin Dale and Louise L. McMillen and was a lifelong resident of the area.
Nancy was a member of Girard United Methodist Church and enjoyed attending church functions. She enjoyed bowling, knitting, doing puzzles and listening to country music, especially to Elvis. Above all else she cherished the time spend with her family, grandchildren and friends.
She is survived by her children, Susan (Brett) Howland of East Springfield, Sandra Ballas of Binghamton, NY and John (Lois) Fetterman, Erie; grandchildren, Thomas Erhard, Jr. and Tia Hulihan, Scott and Dustin Ballas and Victoria Carnes; 11 great-grandchildren; eight special nieces, nephews and their families; and her very special heart connections, Lory Mundkowsky and her family, Sarah Yearwood and her daughter Camryn, Lawrie Hills and the members of her church whom she considered family.
Nancy was preceded in death by her parents; infant daughter, Deanna Fetterman; husband, Frank L. Lockwood; grandson, Adam Sikora; and her brothers, Paul, Frank and David McMillen.
A memorial service will be held at a later date and will be announced by the family.
Online guestbook and condolences available at www.thompsonsmithnesbitt.com