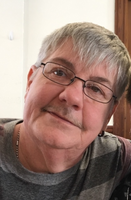 Dee Myers
Delores "Dee" Jean Myers, 55, of Conneaut passed away peacefully at home surrounded by her loved ones on Friday, December 21, 2018 after a courageous battle with cancer.
She was born June 4, 1963 in Conneaut the daughter of Bill Myers and Bernice "Pat" (Dalrymple) English. Dee graduated from Edgewood High School Class of 1981, during her time in high school she attended the Ashtabula County Joint Vocational School where she studied accounting.
Dee was a hard worker and helped create many work opportunities for people while she worked as a Superintendent at Goodwill Industries for many years. Dee was a simple person who enjoyed country drives, sightseeing, and shopping at Walmart. Most of all she enjoyed spending time with her family and friends.
She is survived by her longtime companion, Beverly Hornbuckle; mother, Pat English (Duane Conrad); father, Bill (Janice) Myers; brother, Ken (Laura Mittelstadt) English; sister, Robin (Louie) Aponte; step-daughters, Amber Schuerenburg and Elizabeth Price; grandchildren, Skyler, Connor, Cameron, Sawyer, and Nate; step brothers and sisters, Floyd English, Deborah Kent, Robin Zappitelli, Jimmy Miller, Dave Howland, and Shelly Fertig; step-father Kenneth English; God parents, Frank and Betty Scalise as well as many nieces and nephews.
Dee was preceded in death by her grandpa and grandma Dalrymple, and many aunts and uncles.
A memorial service will be held on Thursday, December 27, 2018 at 2PM at the Pentecostal Church of God, 2201 Cook Rd., Ashtabula, with Rev. Kenneth Roberts officiating..
Should friends desire memorial contributions may be made to the family.
Thompson-Smith-Nesbitt Funeral Home, 345 Main St., Conneaut, is honored to serve the family. Online obituary and condolences at www.thompsonsmithnesbitt.com.