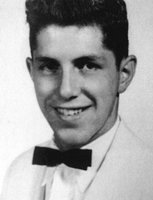 Dale Roger Steadman
Dale Steadman, age 79, passed away at Carrington Park Nursing Home in Ashtabula, Ohio on December 5th after a brief illness. He was born in Lake City, Pennsylvania on February 22, 1940 to Luard H. and Charlotte (Walrath) Steadman, the youngest of three children. Dale graduated from Rice Avenue Union High School in 1958 and joined the Seabees. He was active for two years and stationed in Argentia, Newfoundland. Afterward he worked for Rogers Brothers Corporation in Albion, PA. After residing in Albion for almost 20 years he relocated with his family to Kissimmee, Florida in December of 1978 and eventually worked for Walt Disney World. Later he would reside in Orlando and Deland, Florida, then eventually in Conneaut, Ohio.
He is survived by a sister, Katherine Adams of Conneaut, Ohio; daughter, Michele Steadman of Winter Park, Florida; son, Justin Steadman of Apopka, Florida; two granddaughters; and several nieces and nephews.
He is preceded in death by a son, Brian Steadman, brother Luard H. Steadman, Jr., and parents Luard, Sr. and Charlotte Steadman.
Private family services were observed. Dale will be laid to rest in Lake City, PA. Funeral arrangements entrusted to Thompson-Smith-Nesbitt Funeral Home, 345 Main St., Conneaut.
Online condolences available at www.thompsonsmithnesbitt.com