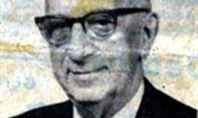 The Thompson-Smith Funeral Home was initially established as The Gordon Thompson Funeral home in Kingsville in 1928. The founder, Gordon S. Thompson, moved the business from Kingsville to Conneaut where it still remains at the Main Street address.
Gordon was eventually joined by his two sons, George A. and C. William. The family business became known as The Thompson Funeral Home, and was trusted and relied upon by hundreds of community members in both Kingsville and Conneaut during their times of need.
Gordon eventually retired, leaving the day-to-day operations to his two sons. When George died suddenly in 1966, C. William became the President of the firm.
In 1972, his son-in-law Thomas J. Smith joined the established business as a fully-licensed funeral director and embalmer. Tom and his wife Janet (Thompson) became very involved, not only with the business, but with the community as well.
The passing of Gordon in 1978 and the death of C. William in 1991 resulted in Tom and Janet becoming owners of the Thompson-Smith Funeral Home.

In 2005 the joining of funeral directors, Stephanie Hall-Nesbitt and Eric A. Nesbitt, at the Thompson-Smith Funeral Home allowed for Stephanie to return to her home town. In 2012 Eric and Stephanie Nesbitt, purchased the funeral home from the Smith Family, allowing them to enjoy retirement, while still remaining active in the community.
345 Main St. | Conneaut, OH 44030 | Tel: (440) 599-8106 | Fax: (440) 599-8449
director@thompsonsmithnesbitt.com | www.thompsonsmithnesbitt.com